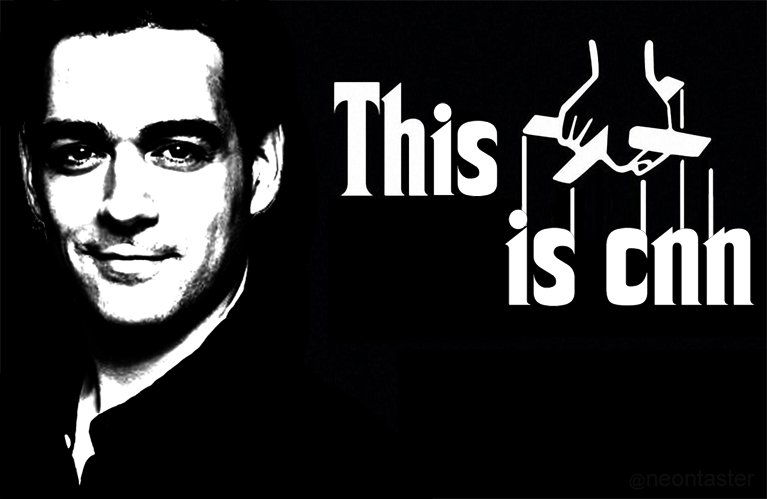 I'm honestly surprised at how rarely I've mentioned CNN on this site before. After all, from the earliest days of this site's history I've spoken out against the corrosive, cultural poison that is the mainstream media, and it just so happens that the one news outlet that represents all aspects of the sickness of the media, and it's name is CNN. Since 2015, they've been waging an unceasing smear campaign against Donald Trump, and have long been cheerleaders for Hillary Clinton. They tried to paint Trump as the next Hitler, and painted all his supporters as uncaring bigots. Then when he won the Presidency, they tried to delegitimise him by spreading the phony Russian collusion conspiracy, which even CNN's own staff will admit is bullshit.
Then, after it became clear as day that the Russian collusion nonsense was finished, CNN somehow managed to sink even lower than they ever have before. A few days ago, Donald Trump tweeted out a meme showing himself wrestling Vince McMahon with the CNN logo superimposed on his face. Surprisingly it's one of those memes that you can interpret however you want. I think that it might be symbolic of Trump winning against the media's smear campaign, especially in light of the Russia narrative's collapse. How did CNN react? They tried to paint it as an incitement of violence against the media. Yes, in the world of CNN, memes are now officially violence, and journalists are supposedly now in danger of losing their lives because the President shared a meme that, by the way, he didn't make. This is all quite rich coming from the company that hired Kathy Griffin, and the same media establishment that constantly tells people that under Donald Trump you or your loved ones could die because he's supposedly an unhinged crazy dictator.
They have been fermenting a climate of political violence against right-wingers since Trump got elected, and yet they have the nerve to proclaim that the President sharing a meme is an incitement of violence. But that's not the worst. Apparently CNN got so offended by the meme that they had one of their muckrackers track down its creator, one "HanAssholeSolo", and apparently managed to coerce him into an apology, with the implication that they might doxx him if they think he's out of line. Forget the term Clinton News Network, they've officially become the Criminal News Network. In case they didn't know, threatening to expose a private citizen's personal details is a crime, and they may well have broken the law in the state in which they are headquartered.
So there you have it. CNN have officially become the Cosa Nostra of the American media, except the actual mafia would probably be punished. Not even Buzzfeed, the rag that published the so-called "piss dossier", has stooped this low. As far as I know, no other news outlet in America is willing to operate so far outside the law just to bandage their petty ego because they were offended. CNN has long been a symbol of everything wrong with the mainstream news media, but now it has transcended mere propaganda-pushing, showing that they're the sort of people who will intimidate critics into silence.
That being said, the professional doxxer CNN hired may as well be cut from the same cloth as Buzzfeed. In fact, he used to work for them. The doxxer, Andrew Kaczynski, has a sordid history of muckraking and yellow journalism. In 2013, Kaczynski shared false information from Reddit regarding the identity of the Boston Marathon bombers, naming Mike Mulugeta and Sunil Tripathi – two innocent men – as the suspected bombers. The actual culprits were Dzhokhar and Tamerlan Tsarnaev, but before the actual suspects were named, Kaczynski's false reporting led to Sunil Tripathi's family being bombarded with calls and messages, leading Tripathi himself to commit suicide.
Later in the same year, he retweeted a stupid tweet from a PR woman named Justine Sacco (in which she made a bad joke about AIDS being white), declaring it to be "the worst tweet of all time". Soon after that, the media elite went about destroying her reputation, and the incident may well have destroyed her professional career. Kaczynski's career as a whole is based on digging up old footage (often of politicians) and using it as part of smear campaigns against his targets. He is the very definition of a muckraker, and yet he is rewarded for this behaviour by the journalistic community, to the pointed that he was nominated for the Shorty Awards' "Best Journalist" award. I'm sure Joseph Pulitzer himself would be proud.
In a way, the whole fiasco shows just how rotten the journalism industry has become, and the core of it all is CNN, a network that has gone a step further than everyone else in the mainstream media, proving that there is nothing they won't do in order to stay relevant in an era where the mainstream media is dying. If that's not enough, they're also completely incompetent at what they do, and I say this mainly because it turns out that "HanAssholeSolo" may not even be the original creator of the meme. It seems to me that everything CNN does in order to try and get at Donald Trump is destined to fail miserably, and that's because CNN, and indeed the news media at large, simply doesn't understand what's going on. They never did, but they can't just accept their obsolescence peaceably, and I think it's too late for them.
Given that CNN is willing to associate with some of the scummiest people on Earth, and silence private citizens that offend them, nothing can redeem them now. I can expect a few people to use the "muh freedom of the press" argument to defend CNN, but of course that's nonsense. The right to freedom of the press only guarantees that you can print whatever you like, as long as it doesn't constitute slander or personal details. The "free press" defence is wholly inadequate because, and I can't make this any clearer, CNN broke the law. It's just like how Gawker broke the law, and yet free press fundamentalists came to their defence because somehow they had "the right" to invade Hulk Hogan's private life. I ask, does CNN have the right to threaten a private citizen because they are a news agency? No, they don't, but they did so anyway, and that makes them criminals.